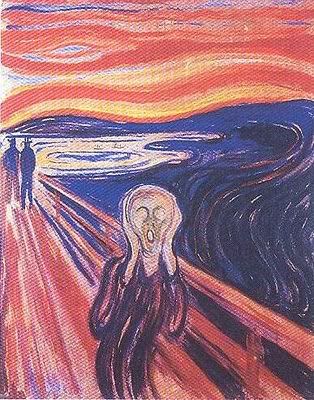 I had held back from posting this because... well, it isnt all butterflies and rainbows. I actually dont know what it means if anything.
The night before my walk I was taking a shower. Im 5 months postpartum and Im still going through that hair loss phase which really annoys me. At any rate, most of my hair falls out in the shower as I wash it.

(sorry I know clumps of hair in the shower isnt exactly cute)

I noticed a couple of hairs that stuck to the side of the shower. And to my surprise it made a face. It was a very sad/ scared face. Similar to the one in this photo. It kind of startled me when I first saw it. I didnt like how sad/scared the "face" looked. So I adjusted it to be a happy face. I wasnt gonna have this sad face sitting there until I was able to get out of the shower and clean it. I dunno, maybe Im weird for that, but it just felt right to do that. So I went on with my shower and a few minutes went by and I glanced at the face again. It went back to the sad/scared face. This time it really got my attention and it kind of gave me a bad feeling. I just sprayed water on it and let it run to the bottom of the shower.
Then move on to right after the walk to remember. As I was getting the kids back in the car a bunch of crows, maybe about 5 or 6 of them were flying around me fighting over something. Then suddenly one of them drops something from their mouth. It was a dead tiny sparrow. It dropped right in front of me. The other crows swooped down and grabbed it and this drop, swoop, grab dance they were doing took place about 3 times right in front of me before they flew off with their meal. It just saddened me to see a dead little sparrow after we were remembering the lives of these little ones.
Then as soon as I got home I put the baby down and put my purse on the kitchen counter. And before I had even let go of my bag the door to the hallway that connects the kitchen to the bedrooms opened by itself. No joke. Sometimes that door opens when the front door is opened but we were already inside and had closed the door before gust of air could open it. The door opened right as I was by it. It gives me the chills just typing it. The hair on my arms is standing up.
I dont know what any of this means. Again, I dont even know that it means anything at all. I just wanted to share and get these thoughts out of my head.